Central Carolina Scale sells and services Rice Lake Industrial Truck Scale Platforms in the Central Carolina Scale Electronic Catalog
Rice Lake Weighing Systems Truck Scales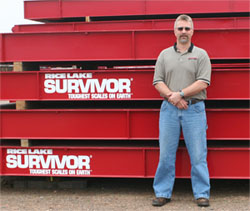 Why You Should Choose A Rice Lake SURVIVOR® Truck Scale
Portions of this article courtesy of Bill Murphy, Heavy Capacity Sales Director @ Rice Lake
As a third generation scale company, each and every employee of Rice Lake takes great pride in the quality and craftsmanship of the products they produce. The truck scale products that RLWS manufactures at plants in Rice Lake, Wis., and Jasper, Ala., are built to provide a generation or more of rugged dependable service.
Why?
A truck scale is a long- term investment. We feel every customer who makes the decision to buy a Rice Lake SURVIVOR deserves nothing short of the best effort.
At a time when many other manufacturers have cut corners to build a 'good,' 'better' or 'best' truck scale, Rice Lake refuses to jeopardize their reputation or the satisfaction of their customers. Rice Lake manufactures all SURVIVOR truck scales with more steel and standard features than most of the competitors' 'best' models. Even though some customers may have what they consider to be a light-duty application, keep in mind that a single overloaded truck or one overloaded axle can permanently and significantly shorten the life of the truck scale.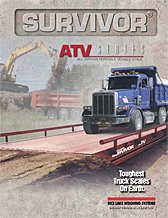 The life of a truck scale is dependent on two very important variables: the daily truck volume and the axle loading of the trucks being weighed. As companies grow and prosper, the daily truck volume on a truck scale can increase dramatically and very often the gross vehicle weight (GVW) and axle loads will rise. What started out to be a light duty application becomes a situation where the scale is handling higher truck volumes and heavier loads than originally anticipated. Because of higher volume and heavier loads many truck scales, built with less steel, are being replaced after only six, eight or 10 years.
What makes a Rice Lake SURVIVOR Truck Scale better?
The single most important consideration in purchasing a truck scale today is the structural integrity of the weighbridge. At Rice Lake, the truck scales typically have 20 to 30 percent more steel content than competitors' models.
Rice Lake's truck scale design is based on highway bridge designs that are intended to last for 100 years or more. This design eliminates the ruts associated with designs using structural shapes instead of heavy bridge iron.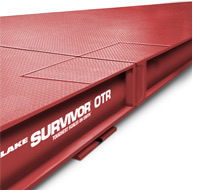 Many competitive weighbridges use bent steel plate or 'junior beam' as key elements in their structural design. This increases the likelihood of excessive deflection and eventual fatigue of critical steel components in the weighbridge. Once the weighbridge has been loaded or deflected beyond its original design characteristics, fatigue of critical steel elements sets in dramatically and reduces the useful life of the scale. This type of damage may not always be visibly evident in the first few years of the life of the scale, but higher maintenance costs and eventual replacement or the scale are virtually inevitable. The weighbridge represents nearly 70 percent of the cost of a new truck scale and, regardless of the application, is the most important element any new buyer should consider.
Critical load cell pockets are integrated into the bridge structure, rather than welded or bolted to the bridge as is a common practice among some manufacturers. The integrated pockets add dramatic strength to the bridge to minimize deflection and prolonging the life of the scale. A diamond-checkered steel treadplate is welded on top of the 12-inch I-Beams and the bridge is open on the lower side to allow air-flow and the steel to breathe. As additional protection, all non-visible steel surfaces receive an asphalt emulsion coating to help prevent oxidation or rusting underneath the bridge. It is the lower portion of the weighbridge that is most vulnerable and normally exposed to standing water or wet damp environments. The OTR Steel Deck Truck Scale has a steel content of over 30,000 pounds – thousands more than the 'best' models of other manufactures.
The load cells on a truck scale represent almost a quarter of the cost of a truck scale and are equally important in the overall performance of the scale. While many manufacturers utilize 50,000 pound capacity load cells, Rice Lake has standardized the 75,000 pound capacity double-ended shear beam for all of their SURVIVOR Series truck scales.

Load cells have an IP67 rating and are manufactured from a high-strength 4340 nickel plated alloy. The 75,000 pound capacity load cells are much better suited for truck weighing than lighter capacity cells and will provide better long-term service as vehicles enter and exit the platform.
Rice Lake Weighing System's patented G-Force™ self-checking mounting system eliminates traditional bumper bolts and provides a superior load cell mounting design. This exclusive design eliminates excessive movement and scale wear by turning 100 percent of the gravity force from the loading action against itself. The scale is instantly returned to dead center.
Load cells are rigidly mounted utilizing a single link suspension to provide equal and consistent force to the load cell. Copper transient bypass cables are provided at each load cell to direct ground surges around the load cell and back to ground.
Rice Lake Weighing Systems provides every truck scale with a specially developed lightning and surge suppression kit that includes a full two-year warranty against problems associated with lightning or surge voltage. This kit includes the following components:
UPS Sola 2000 duplex voltage regulating transformer
UJB-3T6 DC transient circuitry protection
Set of copper braided transient protection cables with mounting hardware for installation at each load cell.
100 feet of 10-gauge copper wire

In addition to the superior strength of the SURVIVOR OTR weighbridge and outstanding load cell sensors, there are numerous other features and benefits that make the SURVIVOR OTR the best choice in the marketplace.
Full scale capacity to 270,000 pounds
90,000 pound CLC/DTA
Span deflection ratio of 1:1100 on legal highway loads (steel deck)
Span deflection ratio of 1:1300 on legal highway loads (concrete deck)
NTEP-certified platform widths to 14 feet wide
Structural I-beam weighbridge
Rock guard at exit and entry to scale
Safety guiderail brackets
Superior forged single link suspension
Asphalt emulsion coating on all non-visible steel surfaces
Epoxy primer and hard coat alkyd enamel top coat
Boltless load cell and junction box access covers
Integrated reinforced load cell pockets
Grouted or groutless load cell stands
No bumper bolts
Self-seating, no-bolt module connections
Patented G-Force load cell mounts
Steel conduit runs inside bridge
Fiberglass Reinforced Polyester (FRP) Junction box with DC transient protection
Flex conduit hub fittings from load cells to in bridge conduit
Single forged link
Custom profiles and platform sizes
Fewer anchor bolts — two ¾ x 7-inch anchor bolts per stand
Outstanding Customer Service you can depend on 365 days a year

Once in a great while a product line comes along that stands head and shoulders above other products in the marketplace — SURVIVOR truck scales are those products.
If you consider all of the facts, shouldn't your next truck scale be a SURVIVOR from Rice Lake Weighing Systems?

Click above for more info or to request a quote